Location
Our facilities are in the delightful village of Scholes, Yorkshire, a village known for its lovely upkeep and is entered into the annual "Village in Bloom" competition. Scholes is easily accessible from the A64 which runs just north of the village.
Targeting Archery is located in the grounds of St. Philip's Church on Main Street, Scholes. There is an off-road car park available. We currently have use of 100M of land behind the church for outdoor shooting, with breathtaking views over open farm land on three sides. This is a beautiful site for archery, especially on sunny days. We also have the kind permission of the church authorities to use the Church Hall for all year round shooting. Space is limited in the Church Hall so we can only shoot up to 10yds. But this is good for children, novices and the beginner's courses which are run by our parent company Targeting Archery, as well as a fine alternative for all, when the weather isn't suitable to shoot outside.
St. Philip's Church
Main Street
Scholes
Leeds
West Yorkshire, LS15 4DJ
Venue Overview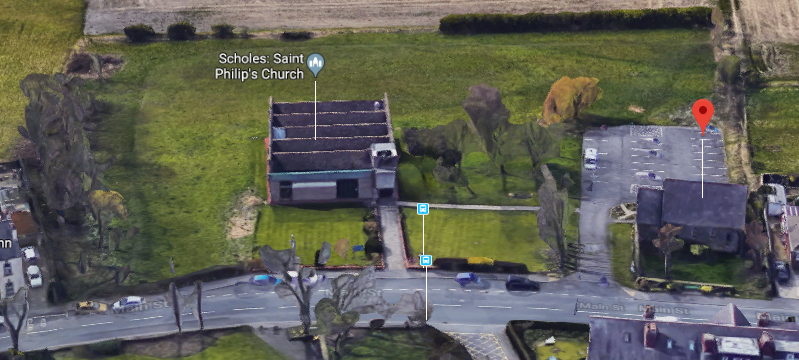 A birds eye view of the venue, looking South. The main St. Philip's church building is central and the Church Hall where we shoot indoors is indicated by the red marker to the right. Main Road runs across the bottom. The entrance to the church's car park runs alongside the Church Hall. Outside archery takes place in a roped off area at the back of the car park shooting along the field behind church.